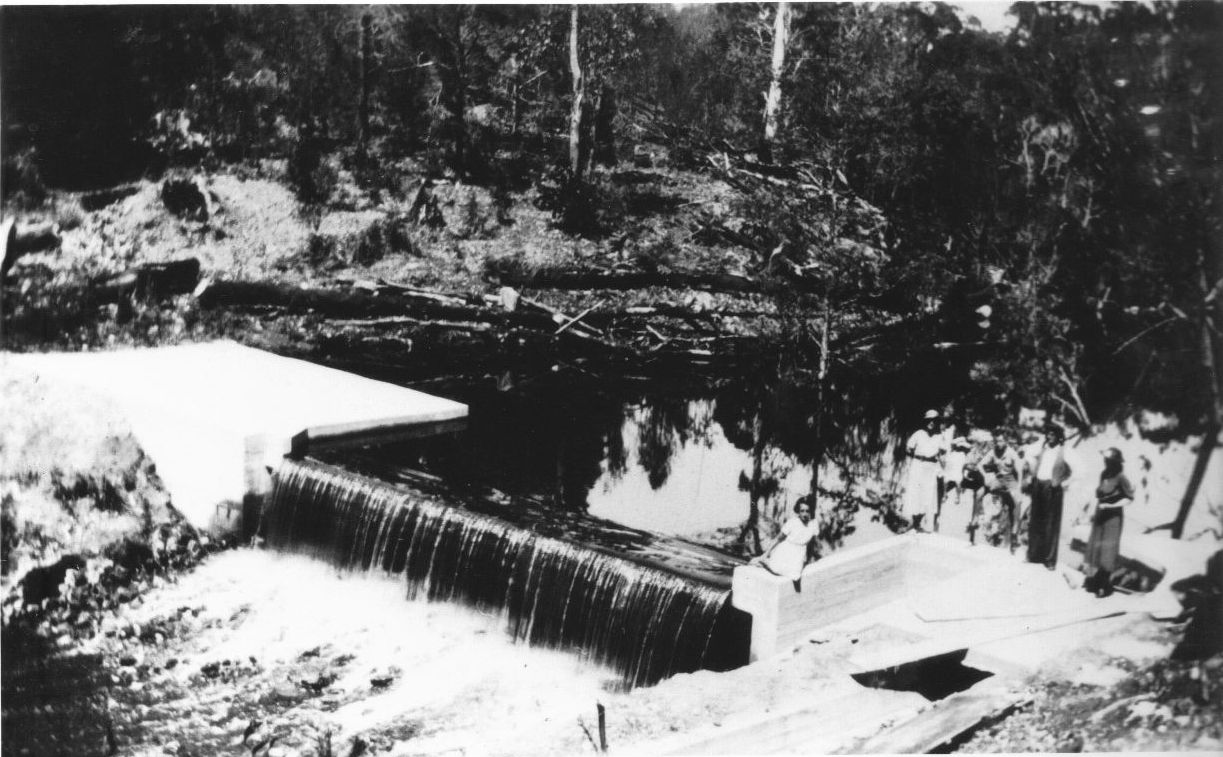 Turned On By Minister for Lands and Works
The Bridport water supply was officially opened by the Minister for Lands and Works (Major T. H. Davies) on Saturday.
The provision of water for Bridport had been discussed for years before a practicable scheme was proposed by the public works engineer (Mr. A. F.Ritchic).. The construction engineer was Mr. C. W. Davenport. The water is taken from the Brid River, and by means of a turbine is pumped to a'50,000 gallon reservoir, 270ft. above sea level, from which it is reticulated to all parts of the town.
When the Minister turned the water on at a fire hydrant opposite the hall the pressure of water exceeded 1001b. torthe square inch.
There was a gathering of between 200 and 300 for the ceremony. These included Senator J. B. Hayes, Mr. A. L.Wardlaw, M.L.C., Messrs. A. Hollingsworth and E. R. Howroyd, Ms.H.A., the Scottsdale Warden and councillors, the Ringarooma Warden and councillors.The visitors were entertained to tea by the Bridport Progress Association.The Warden (Mr. H. G. Salier), welcoming the Minister, thanked the Government for the help which had given Bridport a water supply. Without this help it would not have been possible for many years.
The president of the Bridport Progress Association (Mr. E. Roberts) said the day was a most important one in the history of Bridport. The water supply would add to the town's attractions as a'. tourist resort.' The Minister apologised for the Governor (Sir Ernest Clark), who, he said,regretted he could not be present.It was Sir Ernest's suggestion, Major Davies said, that he should act in his stead.
Bridport. he said. was the port for the Scottsdale district in the early days when it was known as the New Country. Large quantities of timber, tinore, cheese, butter, and grain were chipped from Bridport. The ceremony marked an important step in the progress of the town. The people would have to pay a rate of 2s 3d in the pound, but the residents realised that with an adequate water supply the township was sure to grow."I believe they are right and I expect to see Bridport grow in popularity year by year," he said..The capital cost of the scheme, he said, was in the vicinity of £3500.The financial burden of the rate payers had been lessened by the assistance granted by the Government under the Local Authority Public Works Subsidies Act, 1936, under which the state provided two-thirds of the interest and sinking fund charges during the first ten years of the scheme's loan-period.
extract from – http://nla.gov.au/nla.news-article52198648– 12/06/12