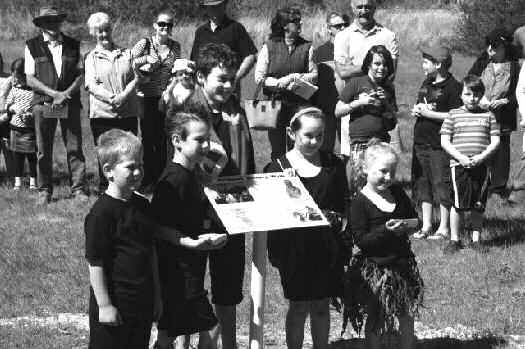 THE new Bridport foreshore walk, complete with solar powered lighting, was officially opened on Saturday and a huge crowd took part and witnessed the many events that were part of the celebrations.
The opening was the culmination of many months of voluntary effort for the Bridport community, organised under the banner of Bridport Innovations.   A federal government grant of $150,000 was used to purchase overhead solar powered track lighting and upgrade the walking path. Interpretative plaques are installed at significant spots. The event celebrated Bridport's history and led by town crier John Allan it commenced at the shipping wharf where the fleet was blessed in front of a crowd in excess of 300, including some who had arrived in period costume. They listened to speeches from aboriginal elder Aunty Phyllis
Pitchford, Pastor Jenny Templeton, and Gayle Edson representing Bridport Innovations.
The town crier was joined by Gary Murray, the Scottish piper, and the crowd strolled along the foreshore. Students from the Bridport school, dressed in colonial clothes, enacted scenarios relevant to the information provided on the interpretative 19 plaques.
The event was concluded with activities for children under the supervision of the fire brigade and Lions club, and music provided by local entertainers. Organiser Wendy McLennan said that Bridport Innovations was thrilled with the response of people to the event. "Every aspect went off superbly and the sunny weather, music and family atmosphere made for a memorable day," Mrs McLennan said.  The Advertiser October 21, 2009