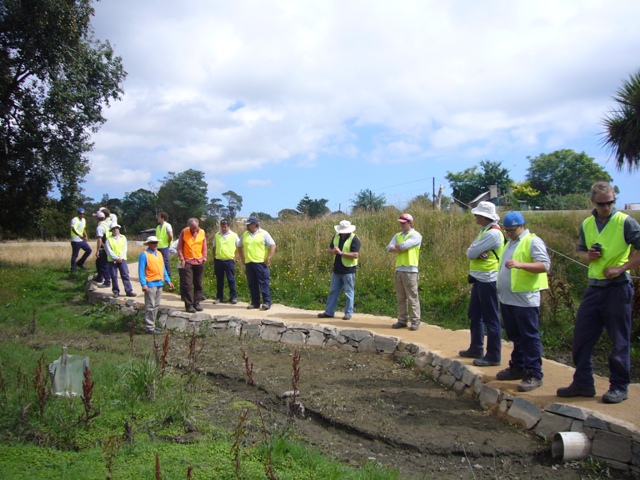 The highly anticipated official opening of the 4.7 km Bridport Walking Track River-Forest section, took place on Friday July 29th.  The 30 trainees and team leaders who built this track completed their formal training in Certificate II Conservation and Land Management, and were graduated on the day.
On July 14th at 1.15pm precisely, the track was completed; the last wheelbarrow load of top gravel had been screed and wacker packed, and the trainees and team leaders packed up their tools for the final time.   After 10 months into this training program this was a momentous occasion.  These amazing individuals had installed and built 4.7 kms of track using:
546 tonnes of base gravel which equates to approx 8,500 wheelbarrow loads, 229,500 shovel fulls
604 tonnes of top gravel which equates to approx 9,400 wheelbarrow loads, 253, 800 shovel fulls
The Egyptians have their pyramids
The Romans their aqueducts
And now 'Bridportions' have their walking track
Heritage building has been  the hallmark of  this world class track with the installation of various dry stone rock features; elevated paths, ramps, retaining walls.  Amenities on the track include shelters at strategic locations, boardwalks, 'Discovery Decks,' signage, dog bins, picnic tables, seating and riparian reserve plantings.  A 'treetops' footbridge over the Brid River was assembled by the trainees and is the jewel in the crown of this walking track project.
The dedication, passion, team work, of the trainees and team leaders who built this track, made this  important community project possible.
A lasting legacy has been created that the Bridport community and generations to come, can enjoy and feel proud of.