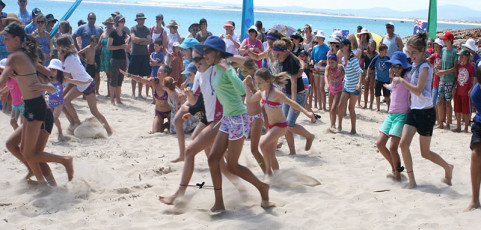 The excitement of the beach remains at the centre of a Bridport holiday and every Australia Day crowds still flock to the foreshore beaches to join in fun and games of the Bridport Splash.
While the beach fashions and some of the events may be different from yesteryear (see Bridport Splash of 1915) such as the thong throw, mud wrestling and kids lolly scramble much remains the same. Today beach races, sail boat rides and swimming events are still very much part of the day at the beach.
There is no doubt that the the crowds are still happy and boisterous and the weather usually ideal. Today's Bridport Splash has grown into one of northern Tasmania's favourite Australia Day events  The Bridport beach tradition lives on.